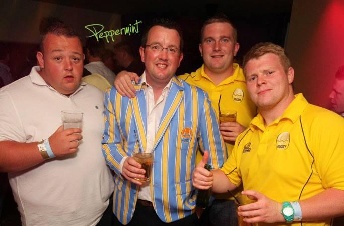 Back in the late 90's a hip new band came along and said "There ain't no party like an S Club party" Obviously they never been to a Beach Rugby Wales after party.
Once again we are pleased to announce that Peppermint Bar & Kitchen  and Bambu will be hosting the sponsors and teams at the after party along with a sponsors bar beach side.
This year we will also see teams from Peppermint & Bambu enter in to the Mens and Ladies competition. In BRW 2013 a Peppermint team won the Mens Championship, could they do it again?
Lizzie Bennett, Marketing and Event Manager for the company says "having been involved with this event for many years we really wanted to support it again this year. We will be hosting the official after parties at Peppermint and Bambu and want to welcome all players, referees, officials and spectators to join us afterwards. We will be onsite during the day to provide everyone with exclusive free of charge wristbands which will gain you entry to both bars and also amazing drinks deals on the night. We will even provide a VIP reception for the winning teams! We hope the sun will be shining and am sure they'll be a great atmosphere on the day."
Peppermint
and
Bambu
are located on Wind Street in Swansea, just a short walk from the Beach Tournament. Make sure you visit them on the day to get your wristband and find out more about the after party!
#SeaYouOnTheSand