Beach Rugby Wales are pleased to announce that this years principal partner will be
Studentdigz Swansea
StudentDigz is the leading student letting agency in Swansea and provides 1000's of students with quality accommodation and peace of mind.
The event will be known as "The StudentDigz Beach Rugby Wales 2017″
This is not the first time that StudentDigz has been involved with Beach Rugby Wales, they first came on board as shirt sponsors back in 2009, as modeled by Lions & Wales star Shane Williams. After the success of 2009 StudentDigz became principal partners in 2010.
StudentDigz Director Mark Hobbs said "It give us great pleasure to be title sponsors of this year's Beach Rugby Wales Tournament 2017. We've been supporting this event for nearly 10 years and it's always one of the first to go in my diary.
The growth of the tournament has been astonishing, which is testament to the hard work and dedication of Ashleigh and his team of organisers.
The introduction of a women's tournament alongside the original set up has brought a whole new wave of support and fun to what was already a great day out. I for one can't wait to see what this year brings.
BRW Founder
Ashleigh Walters
said "Its great to have the StudentDigz team on board once again, they have supported the tournament for nearly 10 years and have stuck by the competition as others have come and gone.
Without companies like StudentDigz the event wouldn't be able to carry on".
If your organization would like to get involved with Beach Rugby Wales please call 07889179963.
StudentDigz has been providing landlords with property rental management services and accommodation for let to students in Swansea for over 17 years. They thrive on helping students, from near and far, settle into their student life here in Swansea.
They have a variety of student accommodation to suit all rental budgets – from private self contained studio apartments for students to 10 bedroom shared student HMO houses located in the most popular student area`s of Swansea.
Our rental properties are located throughout the most popular student areas near to all three campus`s including Swansea University Singleton Campus, University of Wales Trinity Saint Davids Campus (formerly known as Swansea Metropolitan University) and the new Swansea Bay University Campus.
They are always pleased to give a warm welsh welcome to Students who come from far and wide to study here in Swansea, Wales`s city by the sea.
Wales Rugby League will be holding a Match Officials course next week on Thursday evening the 6th of April at Pyle RFC, home of the Bridgend Blue Bulls.
The cost of the course is FREE to attend.
The course will enable people who attend to referee rugby league games this summer at a community level for both adult and junior games.  There is also an opportunity for match officials who qualify to referee university, college and school games throughout the year.
The course is also ran in collaboration with Beach Rugby Wales, qualified match officials from this course will also have the opportunity to be able referee this event on the 22nd of July in Swansea Bay.
The length of the course is only 3 hours and will run from 6-9pm.
If you would like to register to attend the course please download the form HERE and email it back to Idris Evans on idris.evans@walesrugbyleague.co.uk or if you have any queries please call on 07869 626633.
The course is primarily in a classroom but will involve a little time out on the field.  Participants are therefore asked to bring a notepad and pen as well as suitable footwear and clothing for going outside.
Beach Rugby Wales are delighted to announce a new association with Wales Rugby League ahead of their 2017 tournament on Saturday 22nd July in Swansea Bay.
The new partnership will aim to grow and promote Rugby League across Wales as well as develop opportunities for players and the public to become qualified Wales Rugby League Referees.
Another aim is to help Wales Rugby League grow their base of players, both male and female. It is a World Cup year for the National Side, Students and Wheelchair team so it's an exciting time, and the Swansea-based Beach Rugby are set to get behind the national teams.
In turn, Wales Rugby League will help co-ordinate the event, provide training to referees to become rugby league qualified match officials as well as attend the day and promote rugby league to those attending.
Beach Rugby Wales founder Ashleigh Walters said: "We are delighted to be working with the WRL Governing Body.
"It's been a long time since Wales Rugby League has come to Swansea city itself. We remember the old matches at the Vetch Field back in the 1990s, which is just 100 metres from our sandy stadium. It's also a great opportunity to open the doors to over 50 clubs which will hopefully help grow the rugby league game in Wales and further afield.
"The new association will also be a great opportunity for both parties to speak with potential new and current partners and grow their commercial arm especially with the successful corporate competition at Beach Rugby Wales.
Sponsors can enjoy a great day out playing against other businesses whilst enjoying a beer with their staff and families.
"Beach Rugby Wales is played mainly by union sides, invitational teams and groups of friends, but the style of play is physical touch, so it fits well with the physical rugby league brand and shows how great an event it is to have the national governing body of Wales Rugby League come on board."
WRL National Development Manager Idris Evans is excited with the prospect of rugby league taking to the sand:
"Gareth, Ashleigh and I have been working on this venture for some time now and the WRL are really excited to be getting involved with this prestigious event. Beach Rugby is basically rugby league without as much physicality so it ties in great with our laws of the game and match officials / referees."
"The event falls right in the middle of our season so we're hoping to get some clubs along and have some fun, the day will provide us with a great opportunity to spread the word of rugby league in South Wales and specifically the Swansea area."
If you are interested in becoming a sponsor of, or competitor in Beach Rugby Wales 2017, please get in touch by emailing Beach Rugby Wales Commercial Director Gareth Howells at gareth@beachrugbygb.co.uk or by calling 07974873683.
You can still sign up to play at Beach Rugby Wales by visiting www.beachrugbywales.co.uk or visit @BeachRugbyWales on Twitter for more information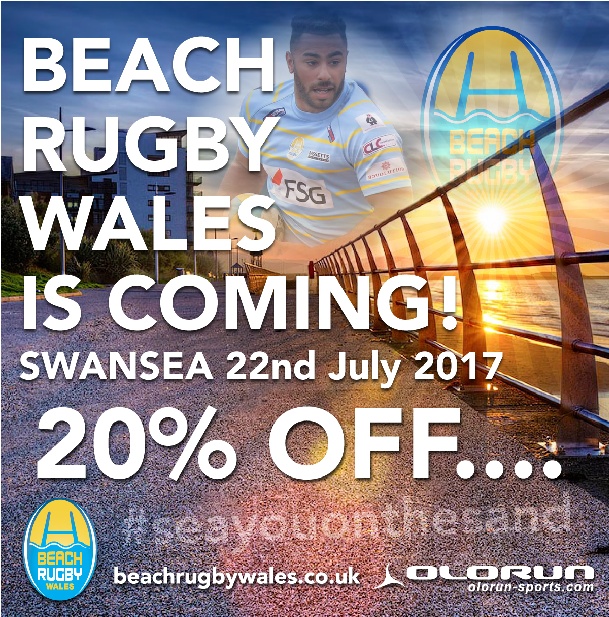 Look like a Pro at Beach Rugby Wales with Olorun Sports
The official teamwear suppliers are offering 20% off teamwear for all participating teams.
So even if you don't play like a Pro, you can at least look and feel like a Pro.
Contact Sales@olorun-sports.com
IMPORTANT NEWS!!
The 2017 Beach Rugby Wales tournament will have a different format:
24 Men's (16 & Over)
12 Ladies (16 & Over)
6 Veterans (Over 40 Years)
12 Corporate (Mixed Teams)
Spaces are starting to fill and they are limited, so to avoid disappointment please register today.
Please note your team registration is only secured along with the entry fee, this will be on a first come first served basis. Any teams that have just simply completed the registration form HAVE NOT ENTERED.
To enter click the link REGISTER
Over the last few months Beach Rugby Wales has been mentioned in most of the rugby loving nations, for some reason.
Our extended rugby family over in Portugal are even talking about it.
Recently there has been a new magazine on the shelves in the Newsstand called
Rugby Life Magazine
,which is an exciting, modern look into Portugal's thriving rugby scene. Interviews, news and much more bring the audience closer than ever to all parts of rugby life, in Portugal.
I you are worried that your Portuguese isn't up to scratch fear not the magazine is bilingual and in all formats
We hope we can welcome a team from Iberia in July 2017 perhaps even Ronaldo might want to try a different shaped ball in the off season.
Please take a look at the link and have a good read. It might even give you some new ideas for Tours.
FSG Men's Cup winners: Y BaaBariad. Runners-up: Warriors Legends.
FSG Ladies winners: Team 200. Runners-up: Moody Cows.
Aspire2be Fairplay Trophy winners: Swansea Gladiators. Runners-up: Llanelli Warriors.
FSG Men's plate winners: Porth Pups. Runners-up: Cambrian Welfare A.
FSG Ladies Plate winners: Riley Sport Flamingos. Runners-up: Treorchy.
The Wave & Swansea Sound corporate cup winners: Aspire 2Be. Runners-up: Apollo Teaching Services.
TheWave & Swansea Sound Corporate plate winners: Village Inn, Killay. Runners-up: Admiral Insurance.
We are please to announce that the FSG Beach Rugby Wales 2016 fixtures have been allocated. Please click link to open up a PDF of the fixtures FSG BRW FIXTURES 2016
As you can imagine we want to make time between games as short as possible for teams, but unfortunately there are some teams that will have a longer period of time between matches….This cant be helped.
Due to the nature of the Beach Rugby it is important that all teams are ready to take to the sand as soon as the previous match has finished. Any team that is not on the sand 2 minutes after the referee and opposing side taking to it will forfeit the match and have a 1 point + 2 point try scored against them in the league standings.
From a secret location in London the draws for the Facilities Service Group Beach Rugby Wales 2016 have taken place.
Every team in each of the three competitions, Ladies, Men's and Corporate were each allocated a number. Then using the most up to date technological computer system, we used Google and searched for an automatic number generator to select a number from 1 to 24 and 1 to 12.
The Ladies tournament will consist of 12 teams, 4 pools of 3.
The Men's tournament will be contested by 24 teams, 8 pools of 3.
The Corporate tournament will consist of 12 teams, 4 pools of 3.
Here are the draws for the pools, fixtures will be announced early next week.
Beach Rugby Wales is delighted to announce that Valley Mill is supplying this year's FSG Beach Rugby Wales trophies and awards.
Over the years, the Valley Mill team has developed a reputation for hand crafting unique Welsh slate gifts and homeware. Alongside this, they've also perfected the art of hand crafting soy candles, melts and natural soaps from their workshop in Crynant.
They also allow our customers to have a hand in designing their own Welsh slate products and over the years, they've invested heavily in their website to allow for a unique design facility, where ustomers can add their own text and motifs, creating gifts, trophies and plaques which are truly personal and very special.
This year's FSG Beach Rugby Wales trophies will be handcrafted using Welsh slate, we can't wait to see them and I am sure they will be the best looking trophies in the club's award cabinet.
Valley Mill's Director Kevin Thomas said, "When we were approached by FSG Beach Rugby Wales to create their 2016 trophies, we were very happy to help. The slate we use is mined in Blaenau Ffestinniog and it's renowned for being the finest in the world. Therefore, it's very fitting that we're able to create the awards using this strong and versatile material."
Valley Mill also sell many other high-quality products from other like-minded manufacturers in Wales. From their high street stores in Neath and Swansea, you can buy a range of unique Welsh-made products including:
Welsh slate homeware & gifts
Handmade ceramics
Welsh-language kitchenware
Woolen Welsh blankets
Traditional Welsh bakestones
To find out more about Valley Mill and the unique products they offer, visit www.valleymill.co.uk